Table of Contents
WHAT IS LAKHNAVI CHIKANKARI?
Lakhnavi Chikankari is a form of shadow work embroidery. Originally, the needlework was done on white muslins called tanzeb. In modern times, we utilise beautiful materials like georgette and chiffon. Chikankari needlework, originally intended to adorn clothing, has now extended to cushion covers, pillow covers, table linen, and other items.
This form of needlework has a delicate aesthetic accentuated by using a single colour with a simple tiny design and incredible evenness and the needlework is done on a white muslin backdrop. So called "white embroidery". This needlework creates a beautiful lacy appearance on tiny fabric strips.
THE HISTORY OF LAKHNAVI CHIKANKARI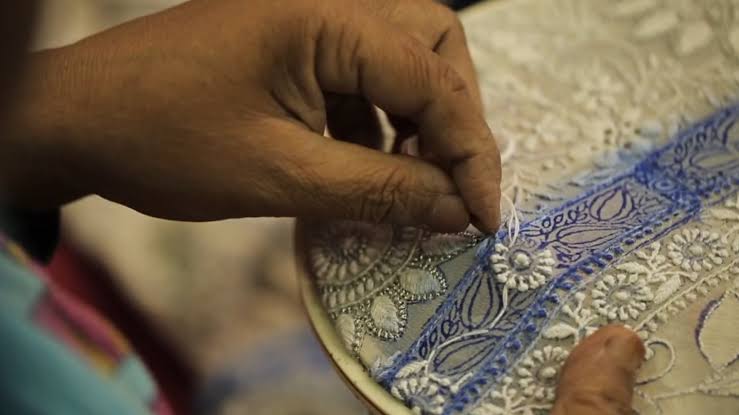 Chikan's origins are shrouded in obscurity. The Mughal Court of Emperor Jahangir's attractive and brilliant consort Nur Jahan developed the Persian craft of chikan. The queen could embroider well. The monarch liked this airy, white flower embroidery so much that he gave it royal support. This needlework was soon taught in workshops.
The History of this Vintage Needlework art and Intricate white flower embroidery created with needle and raw thread mesmerizes delicacy. This exquisite white tracery on clear white linen has pleased kings and commoners for ages. It is centered on Lucknow, the capital of Uttar Pradesh, in northern India. It has withstood the loss of royal sponsorship, commercialization, and mediocrity, a testament to the skill and will of the craftspeople who have passed this method down from generation to generation.
Like all Mughal originated artforms, chikankari patterns are based in nature. Ample flowers, leaves, paisley patterns are most common with this style of embroidery work and lucknow chikankari art-work.
While there are many different types of chikankari embroidery like hool , Jaali work and Banarasi styles, the most popularly loved is the shadow work.
Shadow work involves using the back-stitch, chain stitch and the running stitch to embroider white-on-white motifs from the back-side of a translucent fabric creating a shadow effect is immensely widespread in today's modern-day chikankari inspired fashion.
Chikankari has been practised in Lucknow for over 200 years and has been used to create delicate designer patterns on various types of cloths. This process is completely hand-crafted. Fabrics used include cotton, muslin, chiffon, georgette, organza, and chiffon. Lakhnavi kurtis and Lucknawi Chikan are names used to describe Chikankari outfits for men and women. The design of Chikankari work is the most striking.
CHIKANKARI IN POPULAR CULTURE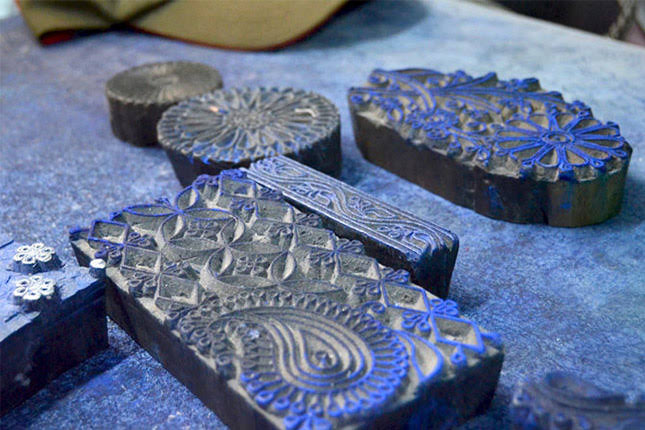 The 1986, an Indian film "Anjuman" which was directed by Muzaffar Ali featured issues of chikan workers. During the making of the film, Farooque Shaikh was so charmed by this work of art that he wore chikan all his life and came to be identified as a brand ambassador of sorts of Lakhnavi chikankari.
Infact, a woman can never go wrong with Chikankari clothing. No matter how she is, young or old, thin or fat, fair or dark, Chikankari work look splendid on each one of them. Women in India wear Chikan clothing from ancient times and this trend is continued till today.
CONFUSED ABOUT WHERE TO BUY LAKHNAVI CHIKAN KURTI?!
Sahiba Handicrafts is a magical window that takes you directly into the rich chikankari markets of Lucknow where you can buy handcrafted lakhnavi chikan kurti online, directly from the artisians. The large-scale manufacture of machine-made chikankari is displacing handcrafted chikankari. Our sole aim is to promote this art of chikankari work by providing it with the market it deserves.
We, at Sahiba reroute the artwork directly to the customers and that way we get rid of the exorbitantly high costs added by the middlemen. Hence, Sahiba brings to you wide range of artfully handcrafted and delicate chikan embroidery at an affordable and popular rate.
More information on Lakhnavi Chikankari can be found here: https://en.wikipedia.org/wiki/Chikan_(embroidery)
To buy a lakhnavi chikan kurti, simply place an order at our online store: https://sahibahandicrafts.com/lakhnavi-chikan-kurtis/